colour: 

GREEN
Luke 13: 10-17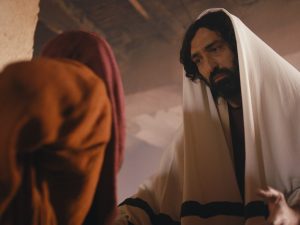 10-15 Now he was teaching in one of the synagogues on the sabbath. And just then there appeared a woman with a spirit that had crippled her for eighteen years. She was bent over and was quite unable to stand up straight. When Jesus saw her, he called her over and said, "Woman, you are set free from your ailment." When he laid his hands on her, immediately she stood up straight and began praising God. But the leader of the synagogue, indignant because Jesus had cured on the sabbath, kept saying to the crowd, "There are six days on which work ought to be done; come on those days and be cured, and not on the sabbath day." But the Lord answered him and said, "You hypocrites! Does not each of you on the sabbath untie his ox or his donkey from the manger, and lead it away to give it water?
Hebrews 12:18-29
12:18 You have not come to something that can be touched, a blazing fire, and darkness, and gloom, and a tempest …22 But you have come to Mount Zion and to the city of the living God, the heavenly Jerusalem, and to innumerable angels in festal gathering, 23 and to the assembly of the firstborn who are enrolled in heaven, and to God the judge of all, and to the spirits of the righteous made perfect, 24 and to Jesus, the mediator of a new covenant, and to the sprinkled blood that speaks a better word than the blood of Abel … 29 for indeed our God is a consuming fire.
| sources | songs | writers |
| --- | --- | --- |
| CG 57 | I come with joy | Wren/trad. |
| SIS/SCE 485/P&W 688 | The Lord reigns | Stradwick |
| Vineyard/SCE[2] 936 | Lord reign in me | Brown |
| P&W 657/SCE 436/SOF 475 | Refiner's Fire | Doerksen |
| SIS 580/ATE 217/P&W 531/SCE 335/TIS 675/SOF 362/AOV[2] 59 | Shine Jesus Shine | Kendrick |
| SCE[2] 957 | Send us the rain Lord | Wellington |
| SCE 30 | Revival fire- fall | Baloche |
| SCE 47/P&W 527/SOF 40 | Be still for the presence of the Lord | Evans |
| SCE 4/P&W 189/SIS 276/TIS 390/SOF 6/AOV[1] 15 | Alleluia alleluia- give thanks | Fishel |
| SCE 537/P&W 589/SOF 486 | Go forth in his name | Kendrick |
Psalm 71:1-6
71:1-6  In you, O LORD, I take refuge; let me never be put to shame.  In your righteousness deliver me and rescue me; incline your ear to me and save me.  Be to me a rock of refuge, a strong fortress, to save me, for you are my rock and my fortress.  Rescue me, O my God, from the hand of the wicked, from the grasp of the unjust and cruel.  For you, O Lord, are my hope, my trust, O LORD, from my youth.  Upon you I have leaned from my birth; it was you who took me from my mother's womb. My praise is continually of you.
sources
songs
writers
DMAC
Faithful
  leadsheet    lyrics  mp3 vocal
CCLI # 5677416
Our God
Tomlin/Reeves/Myrin/Redman
HS/P&W 815/SCE 17
All things are possible
Zschech
DMAC     kids!
Got to be trusting
score   lyrics   mp3
http://togethertocelebrate.com.au/wp-content/uploads/2014/11/Got_to_be_trusting.mp3
P&W 739/SCE 302
Firm foundation
Gordon/Harvill
SIS 473
Blessed be the rock
Gardner
HS/SCE 605
You rescued me
Bullock
HS/P&W 681/SCE 290
Jesus- lover of my soul
Ezzy/Grul/McPherson
HS/P&W 655/ATO 368
Shelter
Bullock
TIS 669/GGIVES2   kids!
Jesus is the rock
Dyson
SCE 266
O faithful God
Altrogge
HS/ATW 470/SCE 221
In your hands (I'm so secure)
Morgan
Jeremiah 1:4-10
1:4-7  Now the word of the LORD came to me saying,  "Before I formed you in the womb I knew you, and before you were born I consecrated you; I appointed you a prophet to the nations."  Then I said, "Ah, Lord GOD! Truly I do not know how to speak, for I am only a boy."  But the LORD said to me, "Do not say, 'I am only a boy'; for you shall go to all to whom I send you, and you shall speak whatever I command you …
| sources | songs | writers |
| --- | --- | --- |
| ATO 320 | I was there to hear your borning cry | Ylvisaker |
| ATW 448/TIS 417/AOV[2] 133 | Loving Spirit | Murray |
| HS/SCE 40/P&W 821 | So you would come | Fragar |
| SIS 496 | Don't know you? | Garratt/Drain |
| TIS 749/ATE 305/AOV[1] 154 | Thuma mina | South African |
| ATO 412/various | Sent by the Lord am I | Ylviskaker/Nicaraguan tune |