colour: 

GREEN 
Luke 8:26-39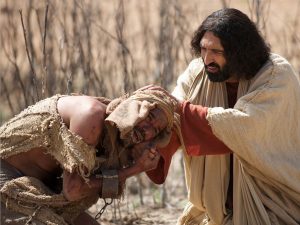 freebibleimages.org
35-39 Then people came out to see what had happened, and when they came to Jesus, they found the man from whom the demons had gone sitting at the feet of Jesus, clothed and in his right mind. And they were afraid.  Those who had seen it told them how the one who had been possessed by demons had been healed.  Then all the people of the surrounding country of the Gerasenes asked Jesus to leave them; for they were seized with great fear. So he got into the boat and returned.  The man from whom the demons had gone begged that he might be with him; but Jesus sent him away, saying, "Return to your home, and declare how much God has done for you." So he went away, proclaiming throughout the city how much Jesus had done for him.
sources
songs
writers
CH4 – 718/Iona-Wild Goose
We cannot measure how you heal
Bell/Maule
HS
What the Lord has done in me
Morgan
DMAC
Healer of hearts
score  lyrics mp3 backing
http://togethertocelebrate.com.au/wp-content/uploads/2014/11/Healer-of-hearts-flutevocal-1.mp3
SCE[2] 753/Vineyard
Hungry
Scott
TIO/TIS 737
Lord Jesus Christ- lover of all
Bell
SIS 562/SCE 203/SOF 210/Vineyard
I worship you
Tuttle
AOVK 77  kid-friendly
Singing Hallelujah!
Good
P&W 697/HS/SCE 197
I'll love you more
Eastwood
AOV[2] 8/TIS 665
Jesus Christ is waiting
Bell/Maule
P&W 587/SCE 253
I walk by faith
Falson
P&W 716  kid-friendly
I want to see Jesus lifted high
Horley
ATO 375
Come and hear my cry
Mann/Simpson
P&W 512/SOF 631
Forever grateful
Altrogge
SIS 226/SCE 291/SOF 298
Jesus- name above all names
Hearn
SIS 630/SOF 237
The battle belongs to the Lord
Owens-Collins
SCE 282/GBEAT1  kids!
Jesus is greater
Hutchinson
GGIVES2/GBEAT1 kids!
Mighty God
Holmes
Galatians 3:23-29
26-29 … for in Christ Jesus you are all children of God through faith.  As many of you as were baptized into Christ have clothed yourselves with Christ. There is no longer Jew or Greek, there is no longer slave or free, there is no longer male and female; for all of you are one in Christ Jesus. And if you belong to Christ, then you are Abraham's offspring, heirs according to the promise.
Psalms 42 and 43
42:1-2 As a deer longs for flowing streams, so my soul longs for you, O God. My soul thirsts for God, for the living God. When shall I come and behold the face of God?
43:5 Why are you cast down, O my soul, and why are you disquieted within me? Hope in God; for I shall again praise him, my help and my God.
1 Kings 19:1-4, (5-7), 8-15a