Passion Sunday – Year A
colour: 

purple
link to Palm Sunday song suggestions
Matthew 26:14 – 27:66

 or

Matthew 27:11-54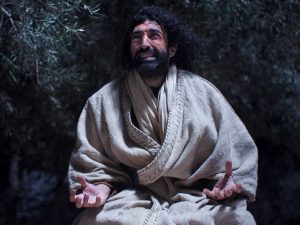 26:26-46 While they were eating, Jesus took a loaf of bread, and after blessing it he broke it, gave it to the disciples, and said, "Take, eat; this is my body." Then he took a cup, and after giving thanks he gave it to them, saying, "Drink from it, all of you; for this is my blood of the covenant, which is poured out for many for the forgiveness of sins. I tell you, I will never again drink of this fruit of the vine until that day when I drink it new with you in my Father's kingdom." When they had sung the hymn, they went out to the Mount of Olives. 
Then Jesus said to them, "You will all become deserters because of me this night; for it is written, 'I will strike the shepherd, and the sheep of the flock will be scattered.' But after I am raised up, I will go ahead of you to Galilee." Peter said to him, "Though all become deserters because of you, I will never desert you." Jesus said to him, "Truly I tell you, this very night, before the cock crows, you will deny me three times." Peter said to him, "Even though I must die with you, I will not deny you." And so said all the disciples.
Then Jesus went with them to a place called Gethsemane; and he said to his disciples, "Sit here while I go over there and pray." He took with him Peter and the two sons of Zebedee, and began to be grieved and agitated. Then he said to them, "I am deeply grieved, even to death; remain here, and stay awake with me." And going a little farther, he threw himself on the ground and prayed, "My Father, if it is possible, let this cup pass from me; yet not what I want but what you want." Then he came to the disciples and found them sleeping; and he said to Peter, "So, could you not stay awake with me one hour? Stay awake and pray that you may not come into the time of trial; the spirit indeed is willing, but the flesh is weak." Again he went away for the second time and prayed, "My Father, if this cannot pass unless I drink it, your will be done." Again he came and found them sleeping, for their eyes were heavy. So leaving them again, he went away and prayed for the third time, saying the same words. Then he came to the disciples and said to them, "Are you still sleeping and taking your rest? See, the hour is at hand, and the Son of Man is betrayed into the hands of sinners. Get up, let us be going. See, my betrayer is at hand."
Psalm 31:9-16
31:9-13 Be gracious to me, O LORD, for I am in distress; my eye wastes away from grief, my soul and body also.  For my life is spent with sorrow, and my years with sighing; my strength fails because of my misery, and my bones waste away.  I am the scorn of all my adversaries, a horror to my neighbors, an object of dread to my acquaintances; those who see me in the street flee from me.   I have passed out of mind like one who is dead; I have become like a broken vessel.  For I hear the whispering of many– terror all around!– as they scheme together against me, as they plot to take my life.
| sources | songs | writers |
| --- | --- | --- |
| Iona/ATO 339 | In you O Lord I found refuge | Iona Community |
| TIS 754/SIS 673/P&W 522/SOF 625 | You are my hiding place | Ledner |
| SIS 505 | Fear not | Pringle |
| P&W 714/SCE 400 | Have faith in God | Bullock |
| HS/SCE 605 | You rescued me | Bullock |
| AOV[2] 2/various | You are mine | Haas |
Philippians 2:5-11
2:5 Let the same mind be in you that was in Christ Jesus,  who, though he was in the form of God, did not regard equality with God as something to be exploited,  but emptied himself, taking the form of a slave, being born in human likeness. And being found in human form,  he humbled himself and became obedient to the point of death– even death on a cross.  Therefore God also highly exalted him and gave him the name that is above every name,  so that at the name of Jesus every knee should bend, in heaven and on earth and under the earth, and every tongue should confess that Jesus Christ is Lord, to the glory of God the Father
sources
songs
writers
Worshiptogether/SCE[3]
Amazing love/You are my King
Foote
SCE 518
Message of the cross
Smith
SIS 256/TIS 650/CH 694/various
Servant Song
Gillard
SCE[2] 662/Vineyard/various
Come- now is the time to worship
Doerksen
TIS 721/Wild Goose
He became poor
Bell
DMAC
Heart and soul
score  lyrics  mp3
http://togethertocelebrate.com.au/wp-content/uploads/2014/11/heartsoul_VOCALA.mp3
HS/TIS 746/P&W 537/SCE 480
The heavens shall declare
Bullock
HS
Worthy is the lamb
Zschech
DMAC    kids!
Remember God's love
score  lyrics  mp3
http://togethertocelebrate.com.au/wp-content/uploads/2015/03/RememberGodsLove_1.mp3
SCE 158/SIS 49/P&W 32/ATN 26/SOF 165
He is Lord
_
TIS 256/P&W 674/ATE/SCE 114/SOF 120
The Servant King
Kendrick
SCE 156/P&W 497/SCE 156/ATE 252/SOF 164
He is exalted
Paris
SCE[2] 611
Above all
Baloche/LeBlanc
SCE 202
If you are encouraged
Kendrick
GBEAT[2] 90  kids!
Nice one Jesus
Mann
SIS 644/P&W 723/SCE 492/SOF 544
There is a Redeemer
Green
SCE 291/P&W 98/SIS 226/SOF 298
Jesus- name above all names
Hearn
HS/SCE 33
Glory to the king
Zschech
SIS 654/SCE 541/SOF 572
We believe
Kendrick
SCE 274/P&W 855
Jesus Christ (Once again)
Redman
TIS 738/P&W 730/SCE 367/ATO 369
Shout to the Lord
Zschech
HS/SCE 333
Lord of the heavens
Fisher
SCE 567
What kind of greatness
Kendric
SCE 284/SIS 360/SOF 178
Jesus is Lord
Mansell
TIS 712
Create in is a clean heart O God
Hannah
Isaiah 50: 4-9a
The Lord God has given me the tongue of a teacher, that I may know how to sustain the weary with a word. Morning by morning he wakens— wakens my ear to listen as those who are taught. The Lord God has opened my ear, and I was not rebellious, I did not turn backward. I gave my back to those who struck me, and my cheeks to those who pulled out the beard; I did not hide my face from insult and spitting. The Lord God helps me; therefore I have not been disgraced; therefore I have set my face like flint, and I know that I shall not be put to shame; 8he who vindicates me is near. Who will contend with me? Let us stand up together. Who are my adversaries? Let them confront me. It is the Lord God who helps me; who will declare me guilty? All of them will wear out like a garment; the moth will eat them up.