Pentecost
 12 – Year A
colour:

GREEN
Matthew 16:13-20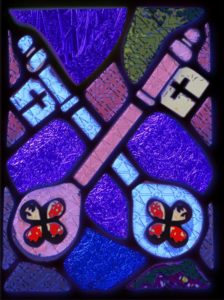 16:13-18  Now when Jesus came into the district of Caesarea Philippi, he asked his disciples, "Who do people say that the Son of Man is?"  And they said, "Some say John the Baptist, but others Elijah, and still others Jeremiah or one of the prophets."  He said to them, "But who do you say that I am?"  Simon Peter answered, "You are the Messiah, the Son of the living God."   And Jesus answered him, "Blessed are you, Simon son of Jonah! For flesh and blood has not revealed this to you, but my Father in heaven.  And I tell you, you are Peter, and on this rock I will build my church, and the gates of Hades will not prevail against it.
| sources | songs | writers |
| --- | --- | --- |
| CCLI song #5183443 | Jesus Messiah | Tomlin/Carson/Cash/Reeves |
| SCE 195/P&W 536/SOF 203 | I believe in Jesus | Nelson |
| CCLI song #6016351 | 10000 Reasons (Bless the Lord) | Myrin/Redman |
| SCE 556/SOF 589 | We shall stand | Kendrick |
| SIS 580/TIS/ATE/P&W 531/SOF 362 | Shine Jesus Shine | Kendrick |
| SIS 473/P&W 597 | Blessed be the Rock | Gardner |
| SIS 49/P&W 32/SCE 158/SOF 165 | He is Lord | anon. |
| SCE 259 | I will build my church | Kendrick |
| SCE 536/SIS 652/P&W 439/SOF 565 | We are a people of power | King |
| TIS 669/GGIVES[2]  kids! | Jesus is the rock | Dyson |
| SCE[2] 936/Vineyard | Lord reign in me | Brown |
| SCE 284/SIS 360/SOF 178 | Jesus is Lord! | Mansell |
| GBEAT[1]/SCE 282 kids! | Jesus is greater | Hutchinson |
Romans 12:1-8
12:1-5  I appeal to you therefore, brothers and sisters, by the mercies of God, to present your bodies as a living sacrifice, holy and acceptable to God, which is your spiritual worship.   Do not be conformed to this world, but be transformed by the renewing of your minds, so that you may discern what is the will of God–what is good and acceptable and perfect.   For by the grace given to me I say to everyone among you not to think of yourself more highly than you ought to think, but to think with sober judgment, each according to the measure of faith that God has assigned.  For as in one body we have many members, and not all the members have the same function,  so we, who are many, are one body in Christ, and individually we are members one of another.
Psalm 124
124:1-3 If it had not been the LORD who was on our side–let Israel now say– if it had not been the LORD who was on our side, when our enemies attacked us,  then they would have swallowed us up alive, when their anger was kindled against us;… 6 Blessed be the LORD, who has not given us as prey to their teeth.
Exodus 1:8-2:10
1:22 Then Pharaoh commanded all his people, "Every boy that is born to the Hebrews you shall throw into the Nile, but you shall let every girl live." 2:1-6  Now a man from the house of Levi went and married a Levite woman.  The woman conceived and bore a son; and when she saw that he was a fine baby, she hid him three months.  When she could hide him no longer she got a papyrus basket for him, and plastered it with bitumen and pitch; she put the child in it and placed it among the reeds on the bank of the river.   His sister stood at a distance, to see what would happen to him.  The daughter of Pharaoh came down to bathe at the river, while her attendants walked beside the river. She saw the basket among the reeds and sent her maid to bring it. When she opened it, she saw the child. He was crying, and she took pity on him, "This must be one of the Hebrews' children," she said. 2:9-10 Pharaoh's daughter said to her, "Take this child and nurse it for me, and I will give you your wages." So the woman took the child and nursed it.  When the child grew up, she brought him to Pharaoh's daughter, and she took him as her son. She named him Moses, "because," she said, "I drew him out of the water."
| sources | songs | writers |
| --- | --- | --- |
| TIS 674/Wild Goose | Inspired by love and anger | Bell/Iona Community |