colour: GREEN

Luke 10:25-37

Henry Martin, sermons4kids.com
25-31 Just then a lawyer stood up to test Jesus. "Teacher," he said, "what must I do to inherit eternal life?" He said to him, "What is written in the law? What do you read there?" He answered, "You shall love the Lord your God with all your heart, and with all your soul, and with all your strength, and with all your mind; and your neighbour as yourself." And he said to him, "You have given the right answer; do this, and you will live." But wanting to justify himself, he asked Jesus, "And who is my neighbour?" Jesus replied, "A man was going down from Jerusalem to Jericho, and fell into the hands of robbers, who stripped him, beat him, and went away, leaving him half dead. Now by chance a priest was going down that road; and when he saw him, he passed by on the other side …
sources
songs
writers
DMAC
Who is my neighbour?
lead sheet  lyrics  mp3 vocal [G]
https://togethertocelebrate.com.au/wp-content/uploads/2022/06/Who-is-my-neighbour-VOCAL-G.mp3
TIS 751
What does the Lord require of you
Strathdee
CG 4/various
All are welcome
Haugen
DMAC
Do justice
score   lyrics   mp3
http://togethertocelebrate.com.au/wp-content/uploads/2014/11/Do_justice.mp3
Seasons of the Spirit Songbook 1
Let us put on the clothes of Christ
Hesla
TIS 657/IECS 29
God of freedom- God of justice
Murray
AOV[2]/ATA 197/TIS 629
When  I needed a neighbour
Carter
GGIVES1  kid-friendly
Love the Lord your God
anon.
NCYC 2001
Walk in the name of God
Graham
AOV[2]/TIS 665/Wild Goose
Jesus Christ is waiting
Bell/Maule
SCE 359/SOF 392/Vineyard
More love- more power
del Hierro
AOV[1] 28/TIS 258
Praise to you O Christ our Saviour
Farrell
AOVK 133
Children of our time
Paxton
DMAC  kid-friendly
With all your heart
score  lyrics
ATA 190
The way is low
Mann
TIS 650/SIS 256/ATA 191/SOF 54
The servant song [Brother sister- let me serve you]
Gillard
TIS 607/SCE 348/ATN 95/SOF 381
Make me a channel of your peace
Temple
various  kid-friendly
Love- love your brother
Boucher
ATA 177  kid-friendly
Love one another
Mann
Colossians 1:1-14
9-14 For this reason, since the day we heard it, we have not ceased praying for you and asking that you may be filled with the knowledge of God's will in all spiritual wisdom and understanding, so that you may lead lives worthy of the Lord, fully pleasing to him, as you bear fruit in every good work and as you grow in the knowledge of God. May you be made strong with all the strength that comes from his glorious power, and may you be prepared to endure everything with patience, while joyfully giving thanks to the Father, who has enabled you to share in the inheritance of the saints in the light. He has rescued us from the power of darkness and transferred us into the kingdom of his beloved Son, in whom we have redemption, the forgiveness of sins.
| sources | songs | writers |
| --- | --- | --- |
| HS/SCE 605 | You rescued me | Bullock |
| CG 73 | Look forward in faith | Scobie/Scobie |
| HS/SCE 221/ATW 470 | In your hands [I'm so secure] | Morgan |
| SCE[2] 871 | I love you | Goodwill |
| SCE 473 | O I love you Lord | Kendrick |
| SIS 269 | Father I thank you | Stewart |
| SCE 38/SIS 465/P&W 403/SOF 37 | Be bold be strong | Chapman |
| SIS 630/SCE 228/SOF 237 | The battle belongs to the Lord | Owens-Collins |
| SIS 678/SOF 629/Vineyard | You are the vine | Daniels |
Psalm 82
1-4 God has taken his place in the divine council; in the midst of the gods he holds judgment: "How long will you judge unjustly and show partiality to the wicked? Selah  Give justice to the weak and the orphan; maintain the right of the lowly and the destitute. Rescue the weak and the needy; deliver them from the hand of the wicked."
Amos 7:7-17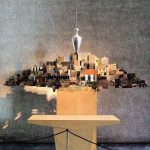 7-9 This is what he showed me: the Lord was standing beside a wall built with a plumb line, with a plumb line in his hand. And the LORD said to me, "Amos, what do you see?" And I said, "A plumb line." Then the Lord said, "See, I am setting a plumb line in the midst of my people Israel; I will never again pass them by; the high places of Isaac shall be made desolate, and the sanctuaries of Israel shall be laid waste, and I will rise against the house of Jeroboam with the sword."
"The Plumb Line and the City," sculpture at Coventry Cathedral, England. Photo by Jim Linwood. Used by permission. CC BY-SA 2.0. 
| sources | songs | writers |
| --- | --- | --- |
| CH 168 | God weeps | Murray |
| AOV2 – 102 | Who will speak if we don't | Haugen |
| TiS 657 / CH263 / AA50 | God of freedom God of justice | Murray |
| ATE 286/TIS 689 | Sorrowing song | Mann |