Palm Sunday – Year A


colour: PURPLE

link to Passion Sunday song suggestions
Matthew 21:1-11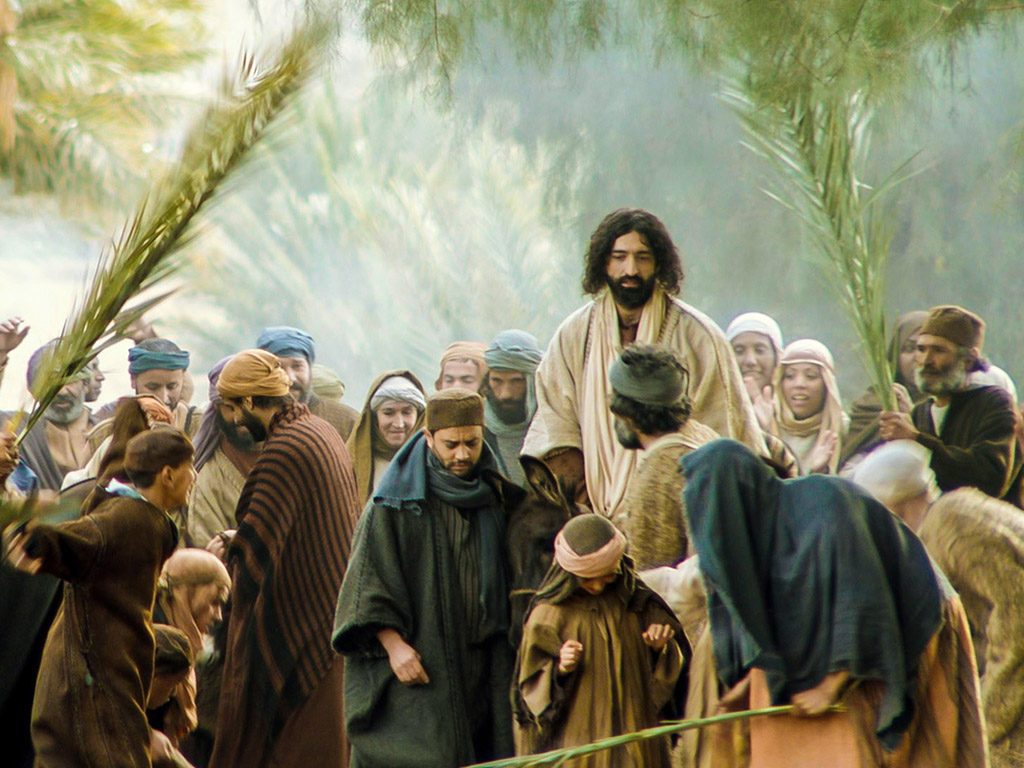 This took place to fulfill what had been spoken through the prophet, saying, "Tell the daughter of Zion, Look, your king is coming to you, humble, and mounted on a donkey, and on a colt, the foal of a donkey." The disciples went and did as Jesus had directed them; they brought the donkey and the colt, and put their cloaks on them, and he sat on them. A very large crowd spread their cloaks on the road, and others cut branches from the trees and spread them on the road. The crowds that went ahead of him and that followed were shouting, "Hosanna to the Son of David! Blessed is the one who comes in the name of the Lord! Hosanna in the highest heaven!" When he entered Jerusalem, the whole city was in turmoil, asking, "Who is this?" The crowds were saying, "This is the prophet Jesus from Nazareth in Galilee."
sources
songs
writers
CCLI # 4785835
Hosanna (I see the King of glory)
Ligertwood
DMAC
Sing hosanna
score lyrics  backing mp3
http://togethertocelebrate.com.au/wp-content/uploads/2014/11/SingHosannamp3.mp3
SIS 538/SCE 182/P&W 484/SOF 189
Hosanna
Tuttle
DMAC   kid-friendly!
Wave those branches high
score  lyrics  mp3
lyrics
ATG 536
If you were a king
Irving
SCE 193/Vineyard
Blessed be the name
Park
ATW 444   kids!
Hey- King!
Grant/Palmer
SIS 587/SCE 349/P&W 449/SOF 384
Make way
Kendrick
SIS 218/SCE 321/SOF 336
Lift up your heads
Fry
SIS 323/P&W 268
You are the king of glory
Ford
ATA 147/TIS 357
When our life began again
Mann
GGIVES[4] 12  kids!
Hooray- It's Jesus!
Holmes
ATO 344
The new road
Beavis
HS/SCE 331
Glory to the king
Zschech
SCE 576
The heart of worship
Redman
Philippians 2:5-11
2:5 Let the same mind be in you that was in Christ Jesus,  who, though he was in the form of God, did not regard equality with God as something to be exploited,  but emptied himself, taking the form of a slave, being born in human likeness. And being found in human form,  he humbled himself and became obedient to the point of death– even death on a cross.  Therefore God also highly exalted him and gave him the name that is above every name,  so that at the name of Jesus every knee should bend, in heaven and on earth and under the earth, and every tongue should confess that Jesus Christ is Lord, to the glory of God the Father
sources
songs
writers
Worshiptogether/SCE[3]
Amazing love/You are my King
Foote
SCE 518
Message of the cross
Smith
SIS 256/TIS 650/CH 694/various
Servant Song
Gillard
SCE[2] 662/Vineyard/various
Come- now is the time to worship
Doerksen
TIS 721/Wild Goose
He became poor
Bell
DMAC
Heart and soul
score lyrics  mp3
http://togethertocelebrate.com.au/wp-content/uploads/2014/11/heartsoul_VOCALA.mp3
HS/TIS 746/P&W 537/SCE 480
The heavens shall declare
Bullock
HS
Worthy is the lamb
Zschech
DMAC    kids!
Remember God's love
score   lyrics  mp3lyrics
http://togethertocelebrate.com.au/wp-content/uploads/2015/03/RememberGodsLove_1.mp3
SCE 158/SIS 49/P&W 32/ATN 26/SOF 165
He is Lord
_
TIS 256/P&W 674/ATE/SCE 114/SOF 120
The Servant King
Kendrick
SCE 156/P&W 497/SCE 156/ATE 252/SOF 164
He is exalted
Paris
SCE[2] 611
Above all
Baloche/LeBlanc
SCE 202
If you are encouraged
Kendrick
GBEAT[2] 90  kids!
Nice one Jesus
Mann
SIS 644/P&W 723/SCE 492/SOF 544
There is a Redeemer
Green
SCE 291/P&W 98/SIS 226/SOF 298
Jesus- name above all names
Hearn
HS/SCE 33
Glory to the king
Zschech
SIS 654/SCE 541/SOF 572
We believe
Kendrick
SCE 274/P&W 855
Jesus Christ (Once again)
Redman
TIS 738/P&W 730/SCE 367/ATO 369
Shout to the Lord
Zschech
HS/SCE 333
Lord of the heavens
Fisher
SCE 567
What kind of greatness
Kendric
SCE 284/SIS 360/SOF 178
Jesus is Lord
Mansell
TIS 712
Create in is a clean heart O God
Hannah
Psalm 118: 1-2, 19-29 
118:24-29 This is the day that the LORD has made; let us rejoice and be glad in it.  Save us, we beseech you, O LORD! O LORD, we beseech you, give us success!  Blessed is the one who comes in the name of the LORD. We bless you from the house of the LORD.   The LORD is God, and he has given us light. Bind the festal procession with branches, up to the horns of the altar.  You are my God, and I will give thanks to you; you are my God, I will extol you.   O give thanks to the LORD, for he is good, for his steadfast love endures forever.
| sources | songs | writers |
| --- | --- | --- |
| SCE 262/SIS 139/P&W 11 | I will enter his gates | von Brethorst |
| SCE 517/P&W/ATN/SIS | This is the day | Garrett |
| SCE 193/Vineyard | Blessed be the name | Park |
| P&W 662 | The name of the Lord | Utterbach |
| SIS 509/SCE 118/TIS 717/SOF 124 | Give thanks | Smith |
| P&W 460/SIS 396/TIS 726 | Be exalted O God | Chambers |
Isaiah 50: 4-9a
The Lord God has given me the tongue of a teacher, that I may know how to sustain the weary with a word. Morning by morning he wakens— wakens my ear to listen as those who are taught. The Lord God has opened my ear, and I was not rebellious, I did not turn backward. I gave my back to those who struck me, and my cheeks to those who pulled out the beard; I did not hide my face from insult and spitting. The Lord God helps me; therefore I have not been disgraced; therefore I have set my face like flint, and I know that I shall not be put to shame; 8he who vindicates me is near. Who will contend with me? Let us stand up together. Who are my adversaries? Let them confront me. It is the Lord God who helps me; who will declare me guilty? All of them will wear out like a garment; the moth will eat them up.