colour: 

GREEN
Luke 12: 32-40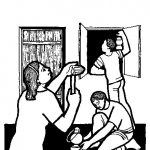 32-35 "Do not be afraid, little flock, for it is your Father's good pleasure to give you the kingdom. Sell your possessions, and give alms. Make purses for yourselves that do not wear out, an unfailing treasure in heaven, where no thief comes near and no moth destroys. For where your treasure is, there your heart will be also. "Be dressed for action and have your lamps lit … 40 You also must be ready, for the Son of Man is coming at an unexpected hour."
Hebrews 11:1-3, 8-16
1-3  Now faith is the assurance of things hoped for, the conviction of things not seen. Indeed, by faith our ancestors received approval. By faith we understand that the worlds were prepared by the word of God, so that what is seen was made from things that are not visible. 8-11 By faith Abraham obeyed when he was called to set out for a place that he was to receive as an inheritance; and he set out, not knowing where he was going. By faith he stayed for a time in the land he had been promised, as in a foreign land, living in tents, as did Isaac and Jacob, who were heirs with him of the same promise. For he looked forward to the city that has foundations, whose architect and builder is God. By faith he received power of procreation, even though he was too old–and Sarah herself was barren–because he considered him faithful who had promised.
sources
songs
writers
HS
Faith
Morgan
HS
Hope
Zschech
HS/P&W 714/SCE
Have faith in God
Bullock
P&W 587/SCE 253  kid-friendly
I walk by faith
Falson
kids!
Father Abraham
anon
DMAC
Promises
score  lyrics   mp3
http://togethertocelebrate.com.au/wp-content/uploads/2014/11/Promises.mp3
GGIVES2  kids!
Faith is like a muscle
Dyson
AHS/P&W 718/SCE 602/ATO 352/HS
Your love keeps following me
Fragar
AOVK 28/ATO 376 kid-friendly
Faith hope & love
Watts
Psalm 50:1-8, 22-23  
1-3 The mighty one, God the LORD, speaks and summons the earth from the rising of the sun to its setting. Out of Zion, the perfection of beauty, God shines forth. Our God comes and does not keep silence, before him is a devouring fire, and a mighty tempest all around him. 7-8 "Hear, O my people, and I will speak, O Israel, I will testify against you. I am God, your God. Not for your sacrifices do I rebuke you; your burnt offerings are continually before me. 22-23  "Mark this, then, you who forget God, or I will tear you apart, and there will be no one to deliver. Those who bring thanksgiving as their sacrifice honor me; to those who go the right way I will show the salvation of God."
| sources | songs | writers |
| --- | --- | --- |
| SCE 278/P&W 763 | This Kingdom | Bullock |
| SCE 480/P&W 537/TIS 746 | The heavens shall declare | Bullock |
| HS | King of majesty | Sampson |
| SIS 142/P&W 116/SOF 121 | From the rising of the sun | Deming |
| P&W 443/SCE 620 | Salvation belongs to our God | Howard/Turner |
| GBEAT1/GGIVES2  kid-friendly | Mighty God | Holmes |
Isaiah 1:1, 10-20
1:11 What to me is the multitude of your sacrifices? says the LORD; I have had enough of burnt offerings of rams and the fat of fed beasts; I do not delight in the blood of bulls, or of lambs, or of goats … 12 When you come to appear before me, who asked this from your hand? Trample my courts no more … 16-17 Wash yourselves; make yourselves clean; remove the evil of your doings from before my eyes; cease to do evil, learn to do good; seek justice, rescue the oppressed, defend the orphan, plead for the widow.