Lent 5 – Year A




colour: PURPLE
John 11:1-45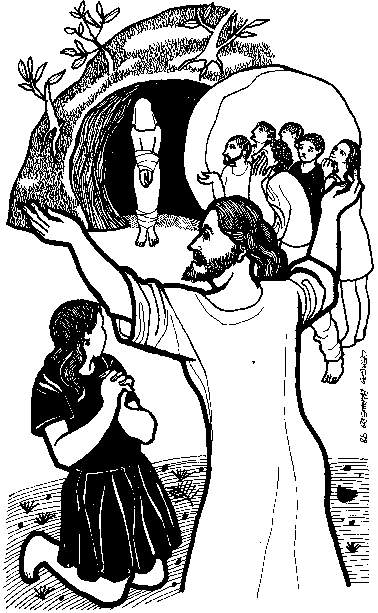 33-45 When Jesus saw her weeping, and the Jews who came with her also weeping, he was greatly disturbed in spirit and deeply moved. He said, "Where have you laid him?" They said to him, "Lord, come and see." Jesus began to weep. So the Jews said, "See how he loved him!" But some of them said, "Could not he who opened the eyes of the blind man have kept this man from dying?" Then Jesus, again greatly disturbed, came to the tomb. It was a cave, and a stone was lying against it. Jesus said, "Take away the stone." Martha, the sister of the dead man, said to him, "Lord, already there is a stench because he has been dead four days." Jesus said to her, "Did I not tell you that if you believed, you would see the glory of God?" So they took away the stone. And Jesus looked upward and said, "Father, I thank you for having heard me. I knew that you always hear me, but I have said this for the sake of the crowd standing here, so that they may believe that you sent me." When he had said this, he cried with a loud voice, "Lazarus, come out!" The dead man came out, his hands and feet bound with strips of cloth, and his face wrapped in a cloth. Jesus said to them, "Unbind him, and let him go." Many of the Jews therefore, who had come with Mary and had seen what Jesus did, believed in him.
Romans 8: 6-11  
9-11 But you are not in the flesh; you are in the Spirit, since the Spirit of God dwells in you. Anyone who does not have the Spirit of Christ does not belong to him.  But if Christ is in you, though the body is dead because of sin, the Spirit is life because of righteousness.  If the Spirit of him who raised Jesus from the dead dwells in you, he who raised Christ from the dead will give life to your mortal bodies also through his Spirit that dwells in you.
Psalm 130  
3-8 If you, O LORD, should mark iniquities, Lord, who could stand?  But there is forgiveness with you, so that you may be revered.  I wait for the LORD, my soul waits, and in his word I hope;  my soul waits for the Lord more than those who watch for the morning, more than those who watch for the morning.  O Israel, hope in the LORD! For with the LORD there is steadfast love, and with him is great power to redeem.   It is he who will redeem Israel from all its iniquities
| sources | songs | writers |
| --- | --- | --- |
| HS/SCE[2] 724 | Eagle's wings | Morgan |
| SCE 302/P&W 739 | Firm foundation | Gordon/Harvill |
| SCE 408 | Only by grace | Gustafson |
| HSNW 134 | I waited on  the Lord | Bell/Iona Community |
| SCE 556/SOF 589 | We shall stand | Kendrick |
| ATO 375 | Come and hear | Simpson/Mann |
| SIS 414/P&W 40/SOF 549 | The steadfast love of the Lord | McNeill |
| ATW 439 | Forgiven | Simpson |
Ezekiel 37:1-14  
1-5 The hand of the LORD came upon me, and he brought me out by the spirit of the LORD and set me down in the middle of a valley; it was full of bones.  He led me all around them; there were very many lying in the valley, and they were very dry.  He said to me, "Mortal, can these bones live?" I answered, "O Lord GOD, you know."  Then he said to me, "Prophesy to these bones, and say to them: O dry bones, hear the word of the LORD.  Thus says the Lord GOD to these bones: I will cause breath to enter you, and you shall live.
37:11-14 Then he said to me, "Mortal, these bones are the whole house of Israel. They say, 'Our bones are dried up, and our hope is lost; we are cut off completely.'  Therefore prophesy, and say to them, Thus says the Lord GOD: I am going to open your graves, and bring you up from your graves, O my people; and I will bring you back to the land of Israel.  And you shall know that I am the LORD, when I open your graves, and bring you up from your graves, O my people.  I will put my spirit within you, and you shall live, and I will place you on your own soil; then you shall know that I, the LORD, have spoken and will act," says the LORD.