Pentecost 2 – Year A


colour:

GREEN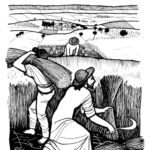 Matthew 9:35 to 10:8
9:35-38  Then Jesus went about all the cities and villages, teaching in their synagogues, and proclaiming the good news of the kingdom, and curing every disease and every sickness. When he saw the crowds, he had compassion for them, because they were harassed and helpless, like sheep without a shepherd. Then he said to his disciples, "The harvest is plentiful, but the laborers are few; therefore ask the Lord of the harvest to send out laborers into his harvest."
| | | |
| --- | --- | --- |
| sources | songs | writers |
| SIS 522 | Healing to the nations | Fitts |
| DMAC | How beautiful | score. lyrics. mp3 https://togethertocelebrate.com.au/wp-content/uploads/2017/08/How-Beautiful-1.mp3 |
| SCE[3] 1130 | Lord of the harvest | Bowater/Bromley |
| P&W 589 /SOF 486 | Go forth in his name | Kendrick |
| DMAC | With all authority | score lyrics |
| TIO/Wild Goose | We will take what you offer | Bell |
| SCE 560 | Cross every border | Kendrick |
| TIS 665/Iona-Wild Goose | Jesus Christ is waiting | Bell/Maule |
| SCE 1048 | What a healing, Jesus | Brown/Lewis |
| ATO 410/HSNW 116 | The Summons | Bell/Maule |
| SCE 161/SIS 523/P&W 523 /SOF167 | Here I am | Bowater |
| P&W732/SCE 551 /SOF 583 | Let the flame burn brighter | Kendrick |
| DMAC | Send us further on | score lyrics mp3https://togethertocelebrate.com.au/wp-content/uploads/2015/05/HereweareVOCAL.mp3 |
| SCE 241/P&W 606 | History maker | Smith |
| SCE[2] 898 | Name above all names | Bennetts |
| SCE 121/SIS 41/P&W 280/ /SOF 129 | Freely freely | Owens |
| ATW 464 | Here you are, Lord | Pfitzner |
| ATE 296/TIS/SCE/various | Here I am, Lord | Schutte |
| SCE[2] 1099/HS | You said | Morgan |
| SCE[2] 919 | Increase in me | Thompson/Mitchell |
Romans 5:1-8  
1,2 Therefore, since we are justified by faith, we have peace with God through our Lord Jesus Christ, through whom we have obtained access to this grace in which we stand; and we boast in our hope of sharing the glory of God. 6 For while we were still weak, at the right time Christ died for the ungodly. 7,8 Indeed, rarely will anyone die for a righteous person–though perhaps for a good person someone might actually dare to die.  But God proves his love for us in that while we still were sinners Christ died for us.
Psalm 116: 1-4, 12-19
1-4I love the Lord, because he has heard my voice and my supplications.Because he inclined his ear to me, therefore I will call on him as long as I live. The snares of death encompassed me; the pangs of Sheol laid hold on me; I suffered distress and anguish.Then I called on the name of the Lord: "O Lord, I pray, save my life!" 17-19I will offer to you a thanksgiving sacrifice and call on the name of the Lord. I will pay my vows to the Lord in the presence of all his people, in the courts of the house of the Lord, in your midst, O Jerusalem. Praise the Lord!
Genesis 18:1-15
The Lord appeared to Abraham by the oaks of Mamre, as he sat at the entrance of his tent in the heat of the day. 2He looked up and saw three men standing near him. When he saw them, he ran from the tent entrance to meet them, and bowed down to the ground. 3He said, "My lord, if I find favor with you, do not pass by your servant. 4Let a little water be brought, and wash your feet, and rest yourselves under the tree … 11Now Abraham and Sarah were old, advanced in age; it had ceased to be with Sarah after the manner of women. 12So Sarah laughed to herself, saying, "After I have grown old, and my husband is old, shall I have pleasure?" 13The Lord said to Abraham, "Why did Sarah laugh, and say, 'Shall I indeed bear a child, now that I am old?'14Is anything too wonderful for the Lord? At the set time I will return to you, in due season, and Sarah shall have a son." 15But Sarah denied, saying, "I did not laugh"; for she was afraid. He said, "Oh yes, you did laugh."